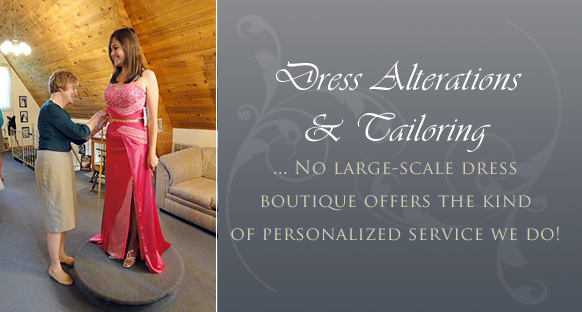 Dress Alterations & Tailoring
It's not enough for a dress to look great. A wedding dress, prom dress or pageant gown needs to fit extremely well, otherwise its wearer will be uncomfortable, self-conscious and preoccupied with pulling and tugging all night instead of enjoying herself. An ounce of prevention - choosing and altering a dress to fit perfectly from the beginning - can save a lot of discomfort and frustration during important events.
At Wedding Belles Bridal Salon, we take a comprehensive approach to dress fittings by working with our customers on proper sizing from start to finish. Not every dress can be tailored, so we make it a point to identify any potential problems with fitting when we help you shop for the right dress.
Experience & In Shop Alterations
Unlike most dress shops that offer fitting services, all our dress alterations are performed right here in our shop by our own highly experienced tailor. Once a dress has been ordered, it doesn't leave our shop until it has been tailored, cleaned, pressed and presented to its owner in a ready-to-wear state. By keeping a single point of contact, we provide alterations that are more customized, higher quality and adhere to more accurate timelines.
Completion times for dress alterations can vary significantly, depending on the dress' availability, style and required alterations, so we recommend getting fitted for your dress as far in advance as possible.
Wedding Belles does accept alterations from garments not purchased at our store, in addition to those purchased onsite. However, alterations are charged separately so please contact store for details on fees and estimates.