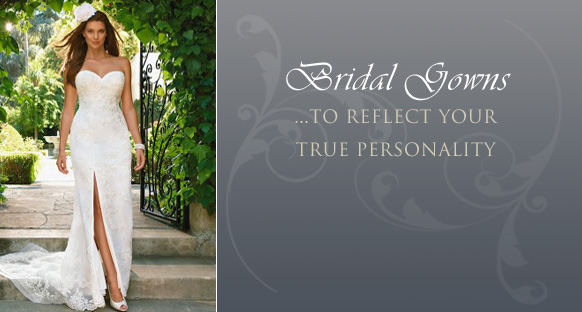 Bridal Gowns: A Fresh Approach to Tradition
Country charm with city style!
When it comes to wedding planning, one item rises to the top of every bride's checklist: the dress. At Wedding Belles Bridal Salon, we take pride not only in our selection of beautiful wedding dresses, but also in our ability to provide the kind of personalized, one-on-one service every bride deserves. From sizing guidance to finding that perfect dress style, we're devoted to meeting the unique needs and taste of each bride who walks in our doors.
Let our bridal experts help you find the dress of your dreams, and make your wedding a truly perfect event!
Wedding Dress Designers & Styles
Each bride has her own unique style, and every wedding demands different functionality from a bride's attire. That's why our hand-selected catalog of wedding dresses includes elegant gowns of every style, including a range of designer wedding dresses and affordable prices - with none of the "cookie cutter" designs you might find in malls or chain bridal shops.
From tea length and informal wedding dresses to lace, vintage and formal gowns, our wedding dress selection has something to suit the taste - and budget - of every bride. Designer wedding gown lines we frequently carry include:
Casablanca
Mary's
Alexia Pearl
Allure Romance
Mori Lee
House of Wu
Please note that the specific wedding gowns and designer brands we're able to keep in stock may vary, depending on availability. To learn what brands we currently have on stock, call us at 269-429-7518, or stop by to schedule a bridal appointment.
Wedding Dress Sizing, Alterations & Timing
Bridal gowns of different styles and fabrics have different alteration requirements, so choosing the right dress in the right size is important. Gowns made from higher end materials are often difficult or impossible to tailor, so sizing these types of gowns correctly is critical. Rather than allowing you to choose a costly yet unalterable dress in an ill-fitting size, we guide you in finding a dress that will fit and feel as good as it looks.
Similarly, wedding dresses require different lead times for ordering and alterations. We recommend brides begin the process of selecting a dress as far in advance as possible, but we also realize that not every bride has 12 months to plan her wedding. When working with brides, we pay close attention to matters of sizing, alteration and required delivery times to ensure your wedding dress will fit perfectly - and be delivered to you on time.
At Wedding Belles, we're known for our ability to accommodate special sizing requirements; we maintain a large selection of beautiful plus size wedding gowns and specialize in meeting unique size requirements.
Personalized Gown Service & Consulting
In the end, the wedding dress you fall in love with may not be the dress you initially had in mind. Many brides change their minds once they step into the bridal shop and see what gowns are available - all the more reason to have an experienced bridal consultant by your side!
As a private, independently owned and operated bridal boutique, we take pride in providing unparalleled bridal gown expertise and consulting. Unlike online dress shops and chain bridal stores, our dresses are backed by approximately 30 years of bridal and wedding consulting experience, while our store consultants take a one-on-one approach with every bridal customer they meet. Not only can we help you explore your wedding dress options, but we will also walk you through the entire process of finding that perfect dress based on you, the individual!
Ready to begin exploring your wedding dress options? Call us at 269-429-7518 or schedule an
appointment online
.