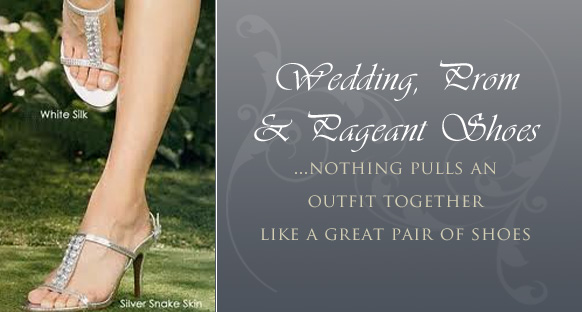 Wedding, Pageant & Prom Shoes
Nothing pulls an outfit together like a great pair of shoes, and at Wedding Belles, we don't neglect the details! From weddings to pageants, our carefully selected inventory of shoes is designed to fit the particular needs of your important event.
Wedding, Prom & Pageant Shoes
We've worked with brides and pageant contestants for over 30 years, and during that time, we've learned what works best. The wedding shoes we carry offer both style and comfort, in a wide range of options. We find some brides prefer heels, some flats, and some enjoy the combined height and stability of platform shoes.
Similarly, we have many options for prom and pageant shoes. We stock many options for silver and gold shoes in particular, as these colors are easiest to match with colorful pageant or prom dresses. For prom contestants, we specifically stock shoes which meet heel or ankle strap requirements as well as clear shoes with gold or silver trim. With so many different outfits to wear during the pageant events, simple clear shoes with gold or silver trim offer a universal solution which blends seamlessly with most pageant outfits.
We perform custom shoe dyeing in our shop for free with any in-store shoe purchase.
Outdoor vs. Indoor Shoes
One of the most important - and overlooked - aspects of finding the right wedding shoes is the wedding's location. Spiked heels do not mesh well with outdoor weddings; the heels get dirty by puncturing turf, and they can create holes in outdoor paper aisles - not to mention awkward moments. For that reason, we've separated our wedding shoes into outdoor and indoor wedding categories.
Matching Handbags & Purses
In addition to a wide range of shoe styles, we offer purses and handbags to complete your ensemble, whether you're a pageant contestant, prom attendee or bride. Ask us to show you our selection of handbags and purses when you stop by for an appointment.