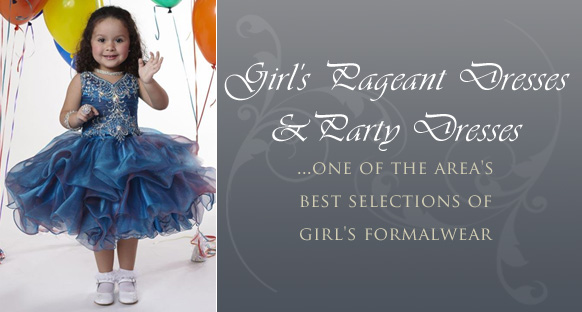 Pageant Dresses - Youth
Youth pageants, which are an important part of Southwest Michigan's annual Blossomtime Festival, are a great way for kids to acquire important social skills at an early age. Girls and boys may typically participate in youth pageants as early as 6 years old. Youth pageants give children a unique opportunity to work on their public speaking skills, to broaden their friendships, deepen their respect for elders and respect for themselves.
Girl's Pageant Dresses & Party Dresses
From pageants to formal kid parties, we have one of the area's best selections of girl's formalwear. Our hand selected in-stock inventory of girl's pageant gowns and party dresses includes designer dresses in a wide range of styles with pricing options to suit nearly any budget. Girl's pageant dresses can also be ordered from our catalogs for an even wider selection.
In addition to our pageant dresses and in-store tailoring services, we provide whatever pageant consulting and advice your little one may need. From walking to general etiquette, we can help young pageant contestants shine on their special day!