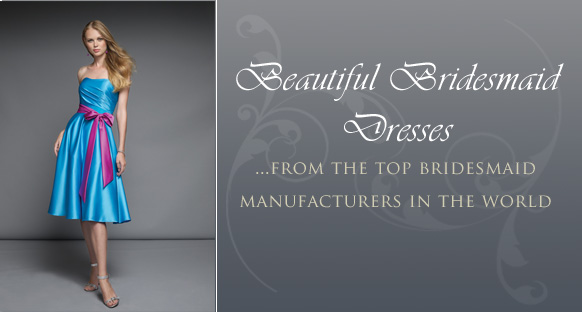 Bridesmaids Dresses - Let the Fun Begin!
As a full service bridal boutique, we're dedicated to helping your entire wedding party look and feel their very best. Picking out bridesmaids dresses with the bridal party should be a fun, memorable event, and we do our best to keep the selection process upbeat and stress-free. As bridal consultants, it's our job to consolidate the bride's expectations with the preferences and sizing requirements of the bridesmaids, providing a dress selection that's sure to satisfy everyone.
Our broad bridesmaid dress catalog is hand-selected from a range of elegant designer bridesmaids lines, stylish cocktail dresses and popular formalwear brands. From short bridesmaids dresses to floor-length sheath dresses, our style selection is sure to make your wedding a one-of-a-kind event. We specialize in meeting your wedding party's special bridesmaid dress requirements, including plus sizes and affordable dresses for parties on a shoe-string budget.
Timing & Coordinating With Out-of-Town Bridesmaids
Coordinating multiple dress fittings and complex alterations can make it difficult to get bridesmaid dress orders completed in time. This can especially be a challenge if bridesmaids are coming in from out of town. For this reason, we encourage bridal parties to have dress fittings and orders completed as far in advance as possible. As always, we will do everything we can to ensure orders are completed in time, including helping your party choose from our in-stock dresses.
Flower Girl Dresses
Finding flower girl dresses at bridal shops can be a challenge, but thanks to our catalog of youth pageant gowns, we're fully prepared to fit your flower girl with a beautiful dress all her own. Our in-stock gowns are ideal for last minute orders, while our flower girl dress catalog options offer a fuller selection for advanced orders.
In addition to bridesmaid gowns, we can help your bridal party accessorize with custom-dyed shoes, handbags and other bridal accessories. To learn more about our bridesmaid dress selection, call 269-429-7518 or schedule a bridal party appointment today.