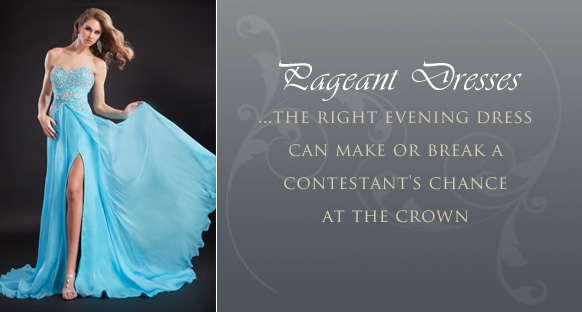 Pageant Dresses
Very few boutique dress salons understand the complexities of choosing the right dress when dealing with Pageants. At Wedding Belles, we've been perfecting our craft for over 30 years, and many of our pageant customers have gone on to achieve tremendous success at the state and even national levels. For nearly three decades, Wedding Belles has taken pride in each and every pageant customer we deal with, no matter if it's an independent local contest, or one at the state, regional or national level.
Pageant Dresses
As every pageant contestant knows, the right evening dress can make or break a contestant's chance at the crown. We keep an extensive in-store inventory of pageant dresses and gowns and an even larger selection of catalog pageant dress options, including designer lines such as Mori Lee, Party Time, Karishma Creations and Tiffany Designs.
With such a wide gown selection, each hopeful young contestant is sure to find a dress which suits her unique style, coloring and budget. We keep our selection fresh, so our customers never have to worry about wading through "cookie cutter" styles.
Additionally, all our fitting and tailoring services are performed right in our shop, to ensure your dress receives the best care and handling available.
Please note that our pageant dress selection changes from season to season, and we are not always able to guarantee the availability of specific designers or styles. To learn more about the pageant dresses we have available for this season, please make an appointment to drop by and see us.
Pageant Dresses - Teen
Each pageant season, most pageant guidelines for evening wear change, and this can be especially true for teen pageants. Dress guidelines for local community pageants, such as those held across Southwest Michigan as preliminary events for the Blossomtime Pageant, often vary from community to community, and main pageant competitions' guidelines are often different from preliminary events' rules. Keeping up with the latest set of standards for teen pageant dresses can be confusing, but we can help!
Having specialized in pageant dress consulting for almost 30 years, we keep up on the latest teen pageant dress standards in communities throughout Southwest Michigan, and we make sure our dress selection reflects these guidelines. When you come to Wedding Belles Bridal Salon, you never need to worry about buying the wrong pageant dress!
Junior Pageant Dresses
In addition to bridal and pageant dresses, we also specialize in prom dresses, which means teen pageant contestants have a wide variety of junior pageant dresses to choose from. From short preteen dresses to full length teen pageant gowns, we have dresses to match each girl's unique style, dress requirements and budget.
Consulting & Pageant Customer Perks
We give each pageant customer the special attention she needs to feel confident - not only about her dress selection, but about the competition as a whole. All of our pageant dress clients are offered up to 15 minutes of pageant consulting at no extra charge! Not only do we help you match your shoes and accessories with your dress, we will also assist you with the interview questions and answers, walk and etiquette, what we love to call the "soft skills" that help any contestant maximize her chances in the competition. Please contact the store to discuss either the complimentary or more comprehensive pageant consulting services that are offered at Wedding Belles.
Jewelry and accessories are free with any dress purchase of $300 or more.
Browse our accessories, or learn more about our Teen Pageant and Youth Pageant dress services.