Southwest Michigan - The Perfect Location for Destination Weddings!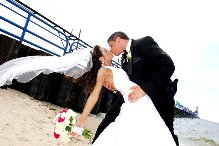 Michigan's Western lakeshore has always been home to some of the Midwest's most beautiful sites and rich agriculture. As Southwest Michigan has emerged as Michigan's "fruitbasket" over the past century, it's been emerging more recently as one of the Midwest's most popular locations for destination weddings - and for good reason.
In addition to an abundance of pristine white sand beaches, Southwest Michigan is also home to some of our state's most beautiful fruit orchards, groves and rural settings. From historic farms converted into elegant bed and breakfasts to lakeshore resorts, Southwest Michigan has countless venues which are ideal for destination weddings - at a fraction of the cost of destinations in more well-known locations.
Why Make Wedding Belles Your Destination Wedding Resource?
When planning a destination, working non-local wedding dress boutiques can be a hassle. The bride and her attendants must bring their completed dresses and accessories with them, and finding a new shop near your venue to perform emergency alterations or cleanings can be a nightmare. Rather than deal with these obstacles, we've found many brides who come to Southwest Michigan for their destination weddings find it more convenient to work with us, a local bridal boutique. The bride and her attendants may come in for fittings during the early planning stages of the wedding, and once the time for the wedding arrives, the bride and her party's dresses are completed and ready.
Not only can we make dress shopping more convenient for destination wedding brides; we can help make the entire planning process easier. Having worked in the wedding industry in Southwest Michigan for nearly three decades, we have established relationships with reputable wedding vendors, from venue owners to caterers to photographers. We can make recommendations for vendors whose services would be the best match for your destination wedding, whether it's a simple, modern ceremony or a large traditional wedding.
To learn more about our affiliates and recommended vendors, read our affiliates page, or visit our preferred wedding planning partner, Stella Event Design.