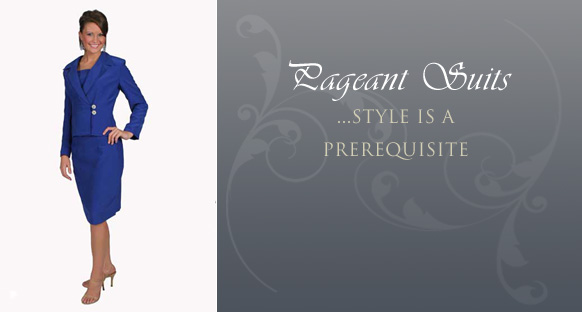 Pageant Interview Suits
While pageant evening wear gowns may get the most hype, pageant interview suits are just as important. In some cases, pageant interviews are weighted more heavily than the evening wear portion of the pageant, and striking the right balance with a tasteful interview suit is critical to scoring high on the interview.
As with evening wear, pageant interview suit requirements are often laid out before hand by individual pageant committees. We keep ourselves up to date on pageant suit guidelines for pageants throughout Michigan each season, so not only do we guarantee that we'll have the right pageant suit styles in stock, but we can help you decide which you need if you're unsure.
We carry a broad inventory of pageant suits in a range of attractive yet professional styles and colors. Many of these suits may be purchased off the rack. All custom fitted interview suits are, like our other formal wear, tailored and handled right here in our shop.
Because pageant interview suits do not leave as much room for girls to express their individual style, interview suit accessories are very important. We work with pageant contestants to choose matching jewelry and accessories which reflect each girl's unique sense of style in a subtle, elegant way.